WORLDWIDE MARKET FOR APOPTOSIS-RELATED PRODUCTS TO CROSS $529 MILLION BY 2005.
Apoptosis is a process through which cells initiate their own deaths. Also called cellular suicide and programmed cell death, apoptosis is vital to the development and survival of many organisms, because it allows an organism to rid itself of damaged or unnecessary cells. However, when genetic mutations or other problems alter apoptotic processes, diseases can result. For example, certain mutations can render cells unable to initiate apoptosis – a condition that can lead to cancer. Alternatively, mutations that do not allow apoptosis to stop may play a role in the pathogenesis of Alzheimer's Disease. Additionally, some viruses inactivate genes that control apoptosis, and force cells to remain alive and in service to viral reproduction.
According to a soon-to-be-released study from Business Communications Co., Inc. (www.bccresearch.com) RB-144 Apoptosis: New Growth Opportunities, the market for apoptosis-related products currently stands at $11 million. This market is expected to total nearly $530 million by 2005, thereby growing at an outstanding AAGR (average annual growth rate) of 90.7% during the 6-year forecast period. The market for apoptosis research products has been growing strongly for the last five years, and the market for apoptosis-related pharmaceutical agents is in its infancy. The growth of these markets is fueled by advances in knowledge about the biochemical pathways that control apoptosis, and the effect of apoptosis on the development and progression of cancer, neurodegenerative disorders, cardiovascular disorders, and other problems.
The market for kits and reagents will cross $19 million by 2005 growing at an AAGR of nearly 10% from 1999 to 2005. The pharmaceuticals forecasts are broken down into categories for agents that treat cancer, neurodegenerative diseases, and cardiovascular diseases. By 2005, reagents market revenues will approach $17 million, growing at an average annual rate of over 10%.
The pharmaceuticals forecasts are broken down into categories for agents that treat cancer, neurodegenerative diseases, and cardiovascular diseases. Still in its infancy stage, the pharmaceutical markets will almost certainly grow, and pharmaceutical agents that modulate apoptosis will probably mature by the end of the decade. This total market is expected to reach $510 million by 2005. The current technological leaps in the biotechnology field will fuel this maturation. Pharmaceutical markets for apoptosis modulating agents may reach the billion-dollar mark by the end of the decade.
In the pharmaceutical market, apoptosis modulating agents aimed at treating cancer are the most advanced, and will likely lead the market in apoptosis pharmaceuticals for some time. However, recent discoveries by basic researchers indicate that agents blocking unwanted apoptosis in neurodegenerative disorders will become important in time. These agents may become the first truly effective, non-surgical treatments for disorders such as Alzheimer's or Parkinson's Diseases. Furthermore, in the cardiovascular market, agents that reduce cell death following myocardial infarction or during cardiac surgery may also become important, novel treatments. These last two categories of apoptosis modulating drugs will be especially important as the baby boomer generation ages.
Worldwide Revenues for Apoptosis-related Products, 1999-2005
($ Millions)
| | | | |
| --- | --- | --- | --- |
| | 1999 | 2005 | AAGR % 1999-2005 |
| Kits and reagents | 11.0 | 19.1 | 9.6 |
| Cancer | 0 | 350.0 | NA |
| Neuro-degenerative | 0 | 80.0 | NA |
| Cardio-vascular | 0 | 80.0 | NA |
| Total | 11.0 | 529.1 | 90.7 |
Worldwide Revenues for Apoptosis-related Products, 1999-2005
($ Millions)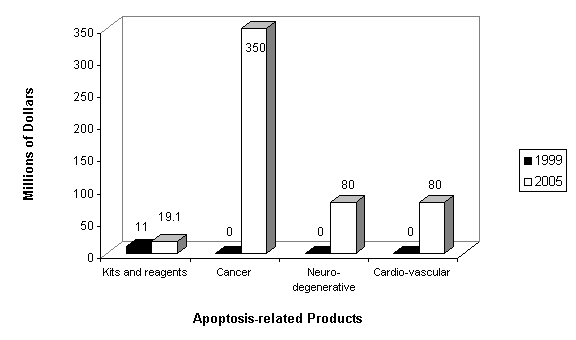 RB-144 Apoptosis: New Growth Opportunities
Published: July 2000

Data and analysis provided courtesy of BUSINESS COMMUNICATIONS COMPANY, INC., 25 Van Zant Street, Norwalk, CT 06855, Telephone: (203) 853-4266; ext. 309, Email: publisher@bccresearch.com