WORLDWIDE MARKET FOR BULK PHARMACEUTICAL ACTIVES
TO CROSS $77 BILLION BY 2005
The U.S. pharmaceutical industry and the total health care delivery system have seen numerous changes since BCC last looked at this market in 1997. Many of these changes are market driven. With the stronger presence of health maintenance organizations (HMOs) in the U.S. health care delivery marketplace, the end-market dynamics of pharmaceutical sales have been impacted dramatically. Consolidation and major technological breakthroughs also have modified the pharmaceutical industry. Although new bulk actives used in pharmaceutical-formulated drugs have accounted for major sales increases, the escalating cost of many drugs has caused strong pressure to be exerted in an effort to control rising health care costs. The future is very optimistic because of new therapeutic interventions expected from the success of defining the genetic code and advances in receptor and enzyme research.
According to a soon-to-be-released study from Business Communications Co., Inc. (www.bccresearch.com) RB-108R Bulk Pharmaceutical Actives, the worldwide production of bulk pharmaceutical actives, i.e., substances in drugs that perform the desired therapeutic actions, totaled an estimated $49.8 billion in 2000. By 2005 this market is expected to reach $77.4 billion as it grows at an AAGR (average annual growth rate) of 9.2% during the 5-year forecast period. The volume of bulk actives is not a corollary to the dollar volume, since many of the new drugs require smaller volumes of the active ingredient, the estimated volume production of bulk actives in 2005 was 393.6 million kg. By 2005, this volume is expected to grow at an AAGR of 5% to reach 502 million kg.
Within this total market, the branded prescription drug segment is the largest with an estimated market of $43.4 in 2000 and is expected to comprise over 85% of the total market in 2005. Bulk producers of pharmaceutical actives include captive, merchant and toll producers. Although many formulated drug manufacturers lean toward the captive manufacture of their actives, there is an emerging trend toward outsourcing. Toll producers and captive producers of prescription drug actives will see the most growth between 2000 and 2005. Toll producers also will see major growth in OTC actives for this time period.
The worldwide market for formulated drug sales reached more than $362 billion in 2000 with an estimated 9.3% AAGR through 2005, yielding $565 billion in forecasted sales. The mergers and acquisitions trend that has pervaded the formulated drug industry is also occurring within the fine chemical companies, which manufacture and market active pharmaceutical ingredients. Vertical integration within companies has also taken place as the result of the mergers of formulated drug companies.
Among the top 25 suppliers worldwide for bulk pharmaceutical actives, 15 are European, seven are American and three are Japanese. In 2000, 10 of the leading prescription pharmaceutical actives accounted for some 40% of total world bulk production. Distribution channels for bulk pharmaceutical actives are varied and include direct sales and sales through distributors or wholesalers. As can be expected, participants in this industry must comply with FDA, GMP and ISO regulations.
Worldwide Market for Pharmaceutical Active Ingredients, through 2005
($ Millions)
2000

2005

AAGR %
2000-2005

Branded prescription drugs

43.4

66.6

9.0

OTC (Over-the-counter)

4.3

7.1

10.4

Generic prescription drugs

2.1

3.7

11.7

Total

49.8

77.4

9.2
Worldwide Market for Pharmaceutical Active Ingredients, 2000-2005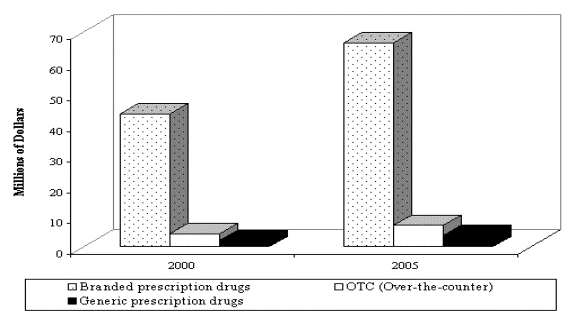 RB-108R Bulk Pharmaceutical Actives


Data and analysis provided courtesy of BUSINESS COMMUNICATIONS COMPANY, INC., 25 Van Zant Street, Norwalk, CT 06855, Telephone: (203) 853-4266; ext. 309, Email: publisher@bccresearch.com