RX-TO-OTC MARKET TO CONTINUE EXPANSION
The process of moving a prescription drug to over-the-counter status—known as the Rx-to-OTC switch—is continually changing, especially with the expansion of the range of conditions that can be treated with OTC medications. This allows consumers to take more of an active role in their own health care and serves to reduce overall health care costs.
According to a soon-to-be-released study from Business Communications Co., Inc. (www.bccresearch.com) RB-104R The New Rx-to-OTC Drug Strategies/Markets - updated edition, the total U.S. Rx-to-OTC switched brand and generic ingredient market has developed into a $4.9 billion market for 2000. Expected to grow at an AAGR (average annual growth rate) of 19.4%, this market will likely reach revenues of $12 billion by 2005.
Highest growth will come from the generic drug market, which will rise at an AAGR of 27%. The category will increase its share from 18.5% in 2000 to represent 26% of the market as it crosses $3 billion by 2005.
Branded drugs, which make up the largest market segment by far, will grow more slowly at an AAGR of 17.2% through the period. It is expected to increase from a $4 billion market to nearly $9 billion in 2005.
The markets are divided according to therapeutic categories, which include pain relievers; antifungals and antiinfectives; cough, cold, allergy and asthma medications; gastrointestinal products and other products, and are sub-segmented by drug classification.
Some market segments advanced faster than others in sales because of the high demand for specific drugs in the self-medication industry. The cough, cold, allergy, and asthma market is likely to remain the leading segment in the Rx-to-OTC switched markets. This market will generate $4.4 billion in sales in 2005, reflecting an average annual growth rate of 27.8% through the forecast period. This intense growth is expected to be due to the switching of the leading nonsedating antihistamines, Claritin and Allegra. With the increasing interest in self-medication, this market is expected to generate a continued increase in sales.
An aging population, cost containment, changes in health care patterns, life-style trends, and consumer attitudes concerning health and self-medication fueled growth in all markets. Short-term growth will likely be fueled by new drug technology-enhancing dosage forms, improved absorption, and ease-of-use. Mid-term growth will likely be driven by switches of blockbuster prescription drugs that are due to lose patent protection, such as Schering's Claritin and AstraZeneca's Prilosec.
The U.S. Market for Rx-to-OTC Switched Ingredients, through 2005
($ Millions)
2000

2005

AAGR %
2000-2005

Branded

4,026

8,906

17.2

Generic

915

3,092

27.0

Total

4,941

11,998

19.4
The U.S.Market for Rx-to-OTC Switched Ingredients, 2000-2005
($ Millions)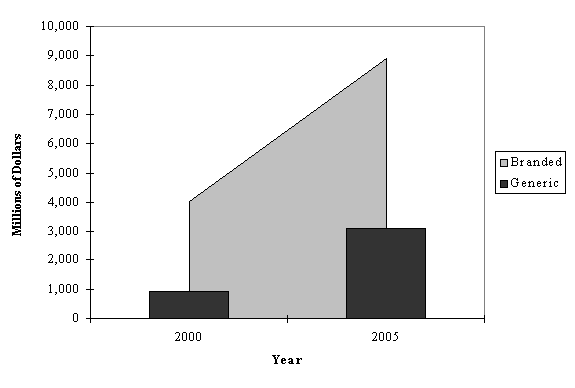 RB-104R The New Rx-to-OTC Drug Strategies/Markets - updated edition.
Published: September 2001


Data and analysis provided courtesy of BUSINESS COMMUNICATIONS COMPANY, INC., 25 Van Zant Street, Norwalk, CT 06855, Telephone: (203) 853-4266; ext. 309, Email: publisher@bccresearch.com