BIOTECH BASED PROTEIN DRUGS SURGE AHEAD
Protein drugs have emerged from the shadows to become, in the last 20 years, significant products in the arsenal against diseases. While conventionally--made proteins are considerable, proteins resulting from the biotechnology revolution drive future growth of the protein drug industry.
According to a soon-to-be-released study from Business Communications Co., Inc. (www.bccresearch.com) RB-114R Protein Drugs: Manufacturing Technologies, the market for protein drugs for human therapeutic use are a 1,000 metric ton industry – more than one billion grams of bulk proteins that garnered formulation sales of $27.8 per gram in 1999 on average (as derived from the breakdown of the various protein categories).
Approximately 1,049 million grams of bulk drug proteins were produced worldwide, generating sales of nearly $30 billion in 1999. Production is expected to rise to 1,150 million grams by 2004 with sales of over $43 billion. In dollar terms, the market is expected to grow at an (AAGR) average annual growth rate of 7.6% during the 5-year forecast period, whereas in grams produced, it will grow at an AAGR of 1.9% during the same period. Human proteins make up the largest share of the current and forecast production, while animal, plant and microbial proteins make up the rest. Production for non-therapeutic applications (laboratory research, in vitro diagnostics, in vivo diagnostics and veterinary) is excluded from these estimates.
Regular biological methods overwhelmingly predominate in the manufacture of drug proteins, including natural source extraction from human, animal and plant materials, regular (non-recombinant) microbial fermentation and regular (non-recombinant) cell culture. This BCC study projects declining production of proteins for human therapeutic use by human-source extraction and by natural animal source extraction, for reasons of viral contamination risk, the vagaries of source material supply and, most significantly, for rapid progress in recombinant technology. During the 5-year forecast period, this market is expected to grow at an AAGR of 1.8%.
Recombinant biological methods provided only 0.1% of the worldwide total bulk drug protein production in 1999, but are projected to provide 0.6% of the total production in 2004 as this market grows at an AAGR of 41% over the next five years. Recombinant DNA technology focuses mainly on proteins of human origin (as well as mouse-derived monoclonal antibodies). Current recombinant biological methods include recombinant microbial fermentation and recombinant mammalian cell culture. In the future, we anticipate transgenic animals and plants will contribute as manufacturing methods, once proteins now being developed by transgenics attain regulatory approval. We note that transgenically sourced proteins will still call for the application of extraction processes.
Chemical peptide synthesis is a relatively minor method of manufacture, in terms of the bulk quantities produced. However, this technology could get a boost, perhaps, from research efforts exploring shortened versions of large protein molecules that still retain biological activity. Also possibly giving impetus to the role of chemical synthesis in the future are current research efforts to deliver peptide drugs orally, through a "stomach overdosing" approach.
Worldwide Production, 1999-2004
(Grams)
1999

2004

AAGR %
1999-2004

Regular biological methods

1,047,617,553

1,143,936,205

1.8

Recombinant biological methods

1,172,921

6,557,181

41.1

Chemical synthesis

68,870

80,000

3.0

Total

1,048,859,344

1,150,573,386

1.9

Sales ($ Millions)

29,868

43,105

7.6
Worldwide Sales of Protein Drugs, 1999-2004
($ Millions)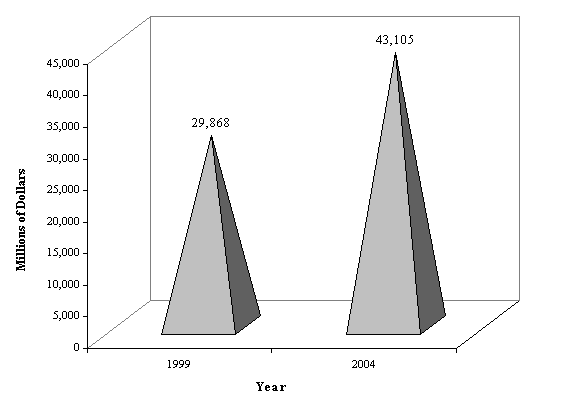 RB-114R Protein Drugs: Manufacturing Technologies
Published: May 2000

Data and analysis provided courtesy of BUSINESS COMMUNICATIONS COMPANY, INC., 25 Van Zant Street, Norwalk, CT 06855, Telephone: (203) 853-4266; ext. 309, Email: publisher@bccresearch.com