WORLDWIDE MARKET FOR PROPHYLACTIC AND
THERAPEUTIC VACCINES TO APPROACH $10 BILLION BY 2006
New developments in vaccine technology that have emerged over the past decade have transformed this relatively lackluster, price-competitive market sector into a technology-driven industry characterized by increasing annual growth rates that approached 10% during the late 1990s. During this period, market growth was spurred by introduction of recombinant vaccines, both of which will continue to contribute substantially to market growth throughout the forecast period.
According to a soon-to-be-released updated study from Business Communications Company, Inc. (www.bccresearch.com) RC-171R The Worldwide Market for Prophylactic and Therapeutic Vaccines, the worldwide market for prophylactic and therapeutic vaccines is estimated to be $5.8 billion in 2001. Growing at an AAGR (average annual growth rate) of 11.6%, this market is expected to approach $10 billion in 2006.
Prophylactic vaccines for children and adults have been the mainstays of this market and although dramatic innovations in these preventive products are not anticipated, this category will enjoy continued modest growth. Pediatric prophylactic vaccines make up 58% of the current market, but will show the slowest growth, at an AAGR of 8.7% through 2006. Adult prophylactic vaccines are the second largest group with sales of nearly $2.4 billion in 2001 and are expected to rise at an AAGR of 10.1% to over $3.8 billion in 2006.
A tidal wave of growth in the vaccines market is expected with the introduction of therapeutic vaccines currently in development to treat acquired-immune deficiency syndrome (AIDS), cancer and other major diseases. Deoxyribonucleic acid (DNA)- and protein-based therapeutic vaccines show tremendous promise in treating viral infections, and vaccines that boost the immune response to cancerous cells will add a powerful new component to standard treatments for cancer. Therapeutic vaccines will feature growth of over 100% on average per year through the period, but by 2006 will still make up only 10.5% of the market.
Worldwide Market for Prophylactic and Therapeutic Vaccines, through 2006
($ Millions)
| | | | |
| --- | --- | --- | --- |
| | 2001 | 2006 | AAGR% 2001-2006 |
| Pediatric prophylactic vaccines | 3,360 | 5,090 | 8.7 |
| Adult prophylactic vaccines | 2,370 | 3,840 | 10.1 |
| Therapeutic vaccines | 30 | 1,050 | 103.6 |
| Total | 5,760 | 9,980 | 11.6 |
Worldwide Market for Prophylactic and Therapeutic Vaccines, 2001- 2006
($ Millions)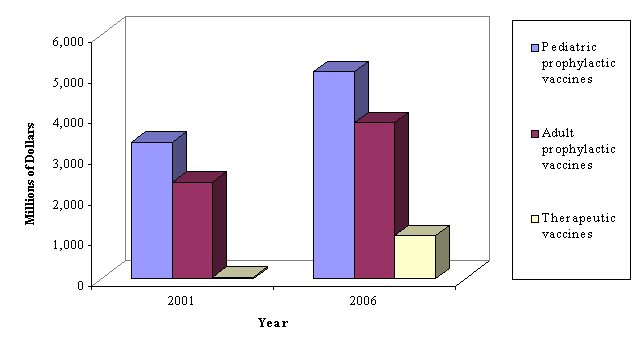 RC-171R The Worldwide Market for Prophylactic and Therapeutic Vaccines - Updated Edition
Published: October 2001

Data and analysis provided courtesy of BUSINESS COMMUNICATIONS COMPANY, INC., 25 Van Zant Street, Norwalk, CT 06855, Telephone: (203) 853-4266; ext. 309, Email: publisher@bccresearch.com